Join us as we experience a wonderfully unique party by getting together and designing our own pair of TOMS Shoes. More importantly, for each pair of white TOMS Shoes purchased, another pair will be given to a child in South Africa this November.




Tom's Shoe Drop - Argentina 2006




</p>


And, as a special thank you to all hosts and guests, everyone will have a chance to take part in a special sweepstakes for the Best Design Award. The winning design will be put into production as an exclusive limited edition TOMS Shoe. One hundred pairs of the winning design will be produced and the designer will receive 10 pairs for free to share with friends and family. Runners-up will receive autographed shoes by TOMS founder Blake Mycoskie. In addition, Blake will personally attend the House Party with the most confirmed guests!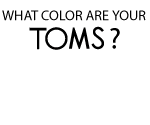 Location to be finalized here in Austin, but rest assured it will involve either drink specials or complimentary adult beverages. We will also have some prizes for our own party favorites. Help contribute to a great cause in a fun and innovative way!





RSVP here, and I will send a reminder invite out later!
Thanks,
snax

*edit*
Since I found out so late in the game, I think I'm going to join up with another TOMS party at Progress Coffee shop at 7pm. There will definitely be a lot of goodies there, I've been told.